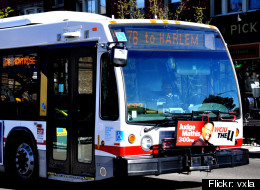 Public transportation. Riders have a love-hate relationship with it. We're all big fans when our trip runs smoothly, but how about when it doesn't?
Enter Designing Chicago, a new platform that connects people to the city. The concept of its first project, titled "New Tools for Public Transit," was created by George and Sara Aye, founders of the Greater Good Studio in Chicago. Their mission is to solve social problems, starting with one that seems to always have people complaining — public transportation.
The idea is to allow Chicagoans to participate in the creation of a transit mobile app. This app will connect the city's transportation schedules from one interface and ask urban dwellers to share ideas, express needs or start conversations around city navigation.
Collecting input from Chicagoans, "Urban Scouts" will be sent out in the city to gather as much information as they can about transportation: what people think about it, what they like/dislike, what's working and what's not.
This participatory project will gather information from multiple perspectives: young and old, Chicago natives and first time visitors. The data collected will then help craft the app to give people the knowledge they need to navigate Chicago.
The purpose of the app is to alleviate the stress of traveling by making a rider's trip run as smoothly as possible. The app could have a scan code to pay on your phone, an alarm to alert you before your stop and even a locator for bike parking, car sharing or taxis.
Weather recaps, money tracking, gas saving – these are just a few of the ideas Designing Chicago has come up with, and more from the public are flooding in.  For the mobile world, this concept of getting consumers involved in the process of creating an app seems like a great idea.
Why not let the future users of the app contribute to what goes into it? This approach gets everyone excited because people enjoy feeling like they are a part of something. The users of the app will be able to follow its creation and contribute ideas along the way.
Will this attempt to create the ultimate transportation app be a success? Currently in the research and development phase, it is still too early to tell. Whether or not this app is built and released, the idea alone is one that has stirred interesting conversation. Could this be an approach that companies may see fit? If social media is more heavily integrated with this type of crowd-centric project, a much wider audience could be reached.
2 Comments to Chicago Transportation App: A Public Project for Chicagoans
Leave a comment